Time: 11:30AM – 1:45PM
Location: Between Morrison and Evergreen
Bear Creek 11/14/2023 Photo Album
A predicted high of 71 degrees in Denver, CO prompted me to make another drive to a Front Range stream on Tuesday, November 14, 2023. I regretted my choice of extremely low Boulder Creek on Sunday over Bear Creek, so I made the small stream that flows through Morrison my destination.
I made the forty-five minute drive to a favorite spot along Bear Creek, and the dashboard thermometer registered 59 degrees. I pulled on my black Under Armour long-sleeved shirt under my fishing shirt, and I assumed that this would be adequate given the temperature and the likelihood of it rising, while I was on the creek. I rigged my Orvis Access four weight, and I tromped to the edge of the stream. I was surprised to encounter snow coverage on both sides of the small creek, but the flows were decent and in the 17 – 20 CFS range.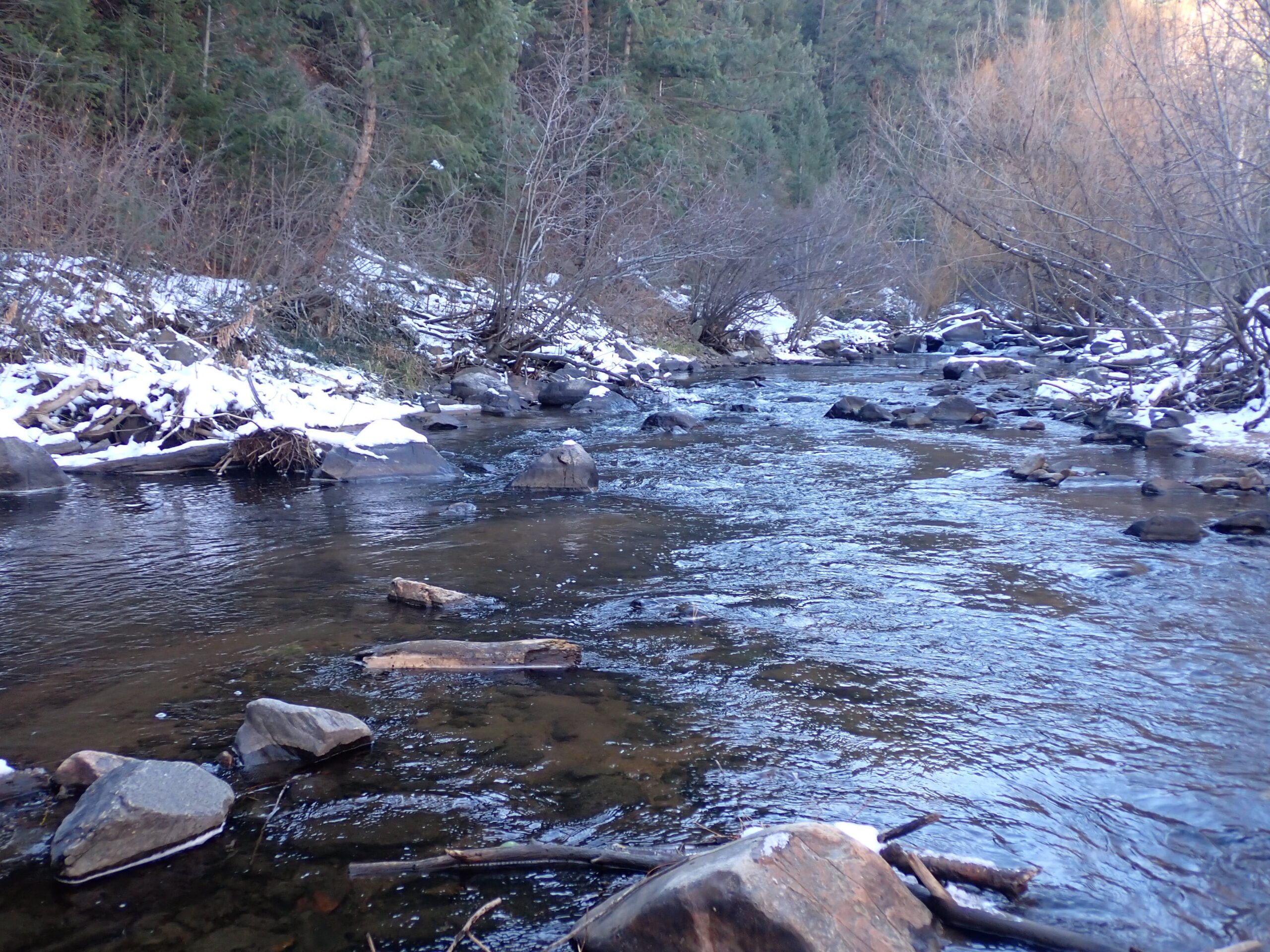 I rigged my line with an olive body size 14 hippie stomper and dangled one of my new olive perdigons beneath it on a 2.5 foot dropper, On my tenth cast to a nice run, I snagged an overhead tree limb, and I was unable to reach it for rescue, so I pulled directly on the line and snapped off the valuable perdigon. Needless to say I was not happy with this ominous start to my Bear Creek fly fishing day. Rather than risk additional losses on the small stream with tight vegetation and trees, I replaced the perdigon with a salvation nymph.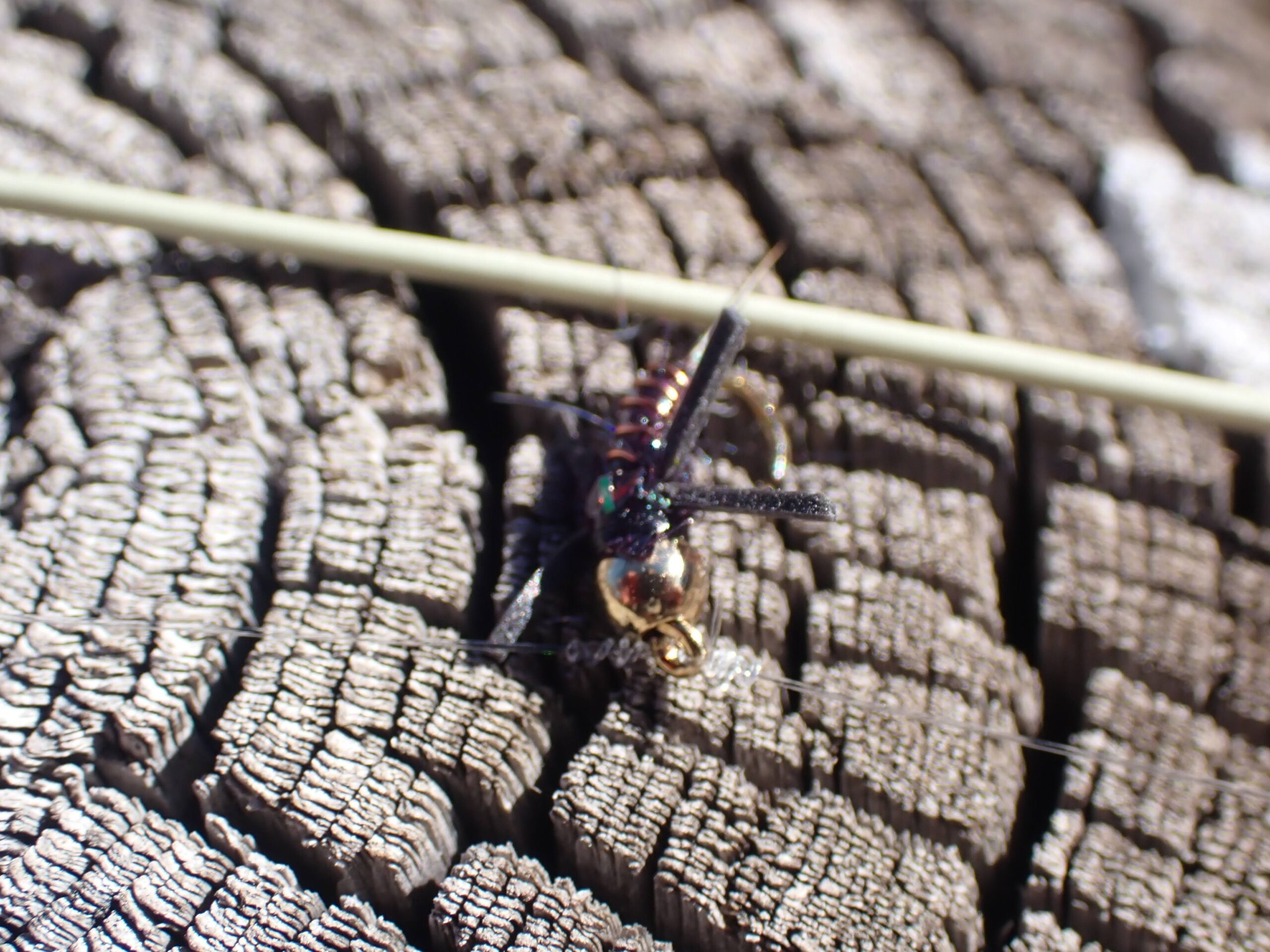 I continued fishing upstream until 11:45AM, at which point I broke for lunch. The section where I began was next to a steep hill that blocked the sun's rays, and it felt like the temperature was in the low forties instead of the fifties. I was quite chilled after thirty minutes of fishing, and the Santa Fe was twenty yards away, so I returned to the parking lot to eat my lunch, and I added my North Face light down coat as an extra layer.
While eating lunch I pondered my fly offerings, and I decided to supplement the salvation nymph with a small size 18 apricot egg fly. I returned to my exit point and worked my way upstream between noon and 1PM, and I managed to land three brown trout. Two were in the seven inch range, and one was a twelve inch prize, although it was extremely lean. I also connected temporarily with two trout and landed a small brown that was beneath my six inch minimum. Surprisingly these trout were located along the edges of runs of moderate depth. The slower moving deep pools that suggested trout habitat did not produce. Two of the landed browns snatched the salvation, and the skinny twelve incher gobbled the egg fly.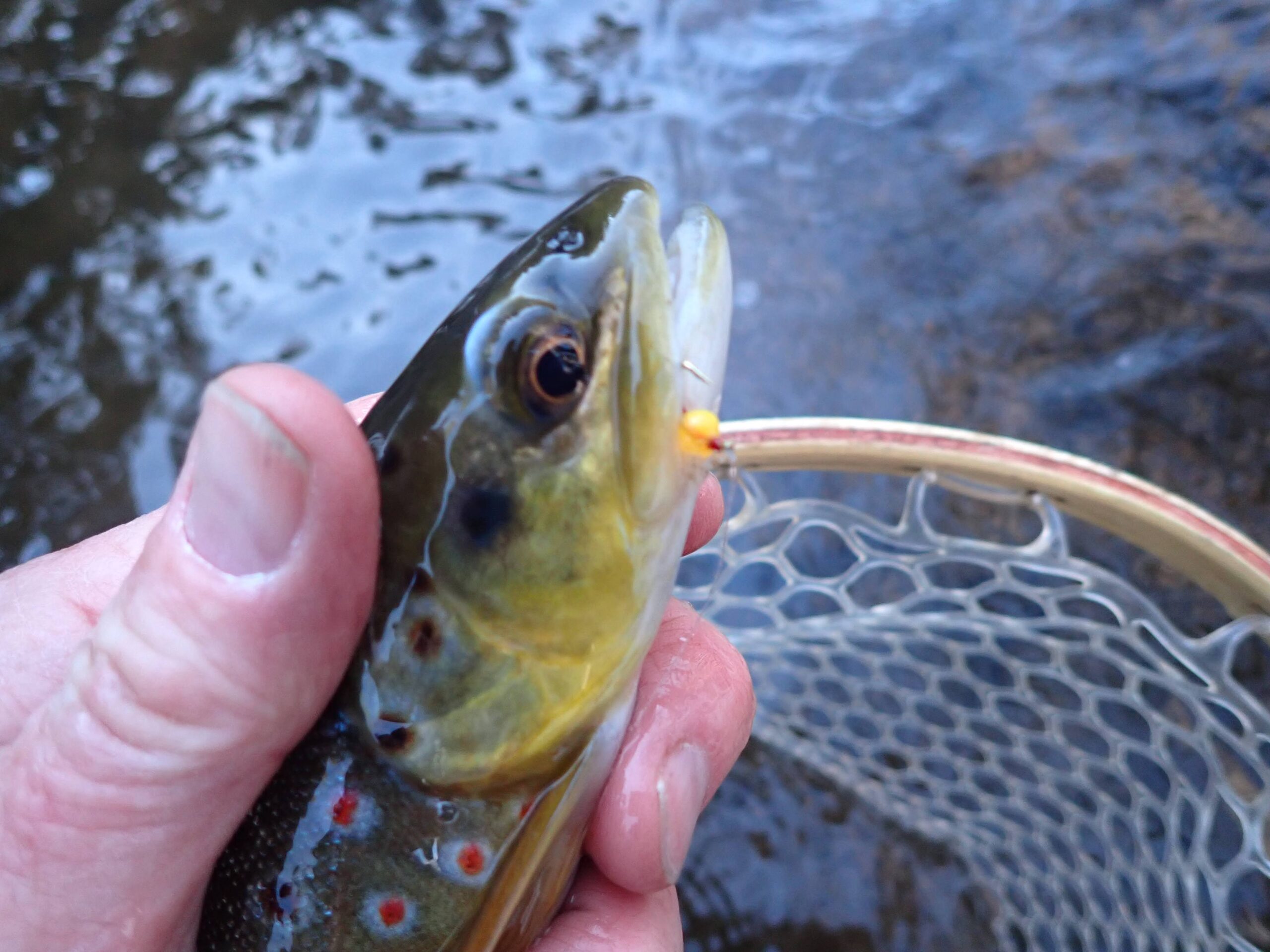 By one o'clock my hands were gnarled and aching appendages. In spite of my best efforts to dry them after handling fish and stripping my wet line, the evaporation effect predominated, and the discomfort made fishing seem like a chore rather than fun. I exited the stream with the intent of returning to the car to call it a day, but then I had second thoughts. What if the stream curved around and flowed through full sunlight? I hiked in a northwestern direction along the packed snow trail, until I encountered a footbridge. The hill along the southwest side of the creek was more distant and lower, and this allowed the sun to bathe the creek in sunlight. I could not resist the temptation to cast my line in the warm sunshine, so I spent another thirty minutes prospecting the stream above the pedestrian bridge. Alas, I was unable to tempt a single trout; and, in fact, I never saw evidence of the existence of the cold water species in this section; however, my comfort level rose, and I focused on laying out nice long casts to promising runs.
By 1:45PM the lack of action convinced me that it was time to call it a day, and I trudged back to the car. Three small fish in 1.75 hours of fly fishing in mid-November was respectable, but the bone numbing fingers experience was not something that I wished to replicate. I might consider fishing a larger river in a wide valley with stronger sun penetration for any future fly fishing excursions, before I call it quits for 2023.
Fish Landed: 3